Financial Resources FCU Foundation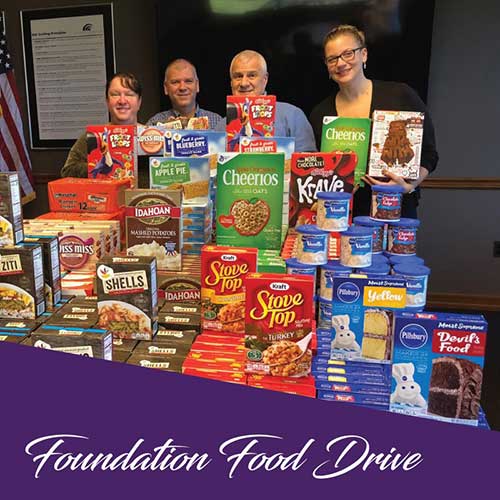 Financial Resources FCU Foundation organizes charitable events in support of various charities and organizations primarily focused on providing services to women and children. Since inception the Credit Union and Foundation have raised over $500,000. The Financial Resources FCU Foundation, Inc., is a tax-exempt charitable organization under section 501(c)(3) of the Internal Revenue Code.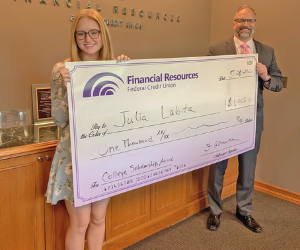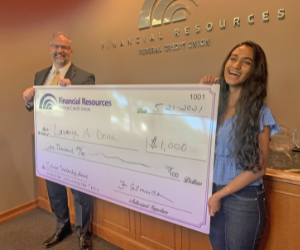 Financial Resources FCU Foundation 2021 Charity Event
Save the Date!
After cancelling our 2020 Gala due to the Covid-19 Pandemic, we are excited to be planning our 2021 Event! While we are still waiting for more information regarding in-person gatherings from the CDC, we are planning an online auction to be held September 13, 2021.
Please check back for updated information or contact Susan at sdvorin@finresc.org.
Shop on AmazonSmile to Benefit the Financial Resources FCU Foundation
Did you know that the Financial Resources FCU Foundation now has an AmazonSmile account to help support our communities in need?  It's easy, with no additional cost to you, to shop on Amazon via our unique link and donate to our Foundation at the same time!
Please consider joining AmazonSmile and choosing the Financial Resources FCU Foundation as your charity of choice to donate at no additional cost to you!  We encourage you to share this opportunity with your friends and family.
Go to https://smile.amazon.com/ch/20-8216512 and click Start Shopping.
Please note that joining AmazonSmile to donate to the FRFCU Foundation will not change or affect your Amazon Prime account in any way; you'll still have all of your Prime Benefits and it will not cost any extra.
Thank you for your support!
Financial Resources FCU Foundation Raises $20,000 at Charity Gala Event
BRIDGEWATER, April 29, 2019 – At our 2019 Gala Event, Financial Resources FCU Foundation presented a check to Welcome Home Vets of NJ.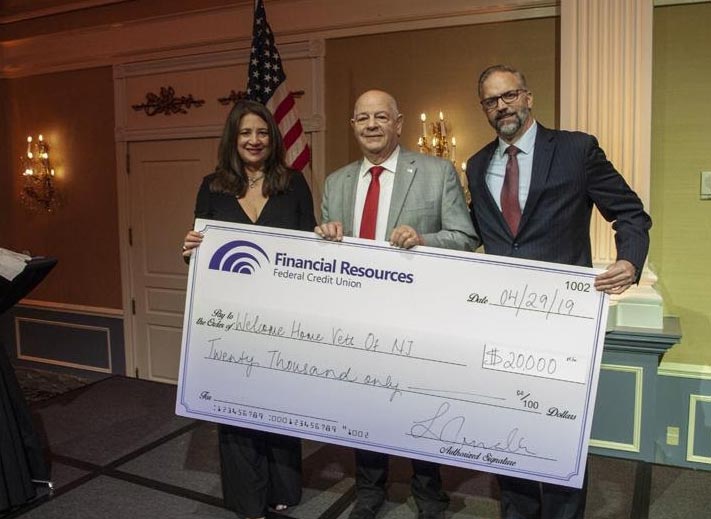 From left to right: Lena Matthews, Former President and CEO of FRFCU,
Val DiGiacinto of WHVNJ, Frank Almeida, current CEO and President of FRFCU
Welcome Home Vets of New Jersey was established July 24, 2009 and is an entirely volunteer, nonprofit organization with 100% of all donations dedicated to helping our service men and women overcome obstacles in their return to civilian life. They strive to provide assistance to former service members from all conflict eras, including legal help as well as access to medical services, housing and jobs.
We are thankful for all of this year's sponsors and supporters that made the evening so very successful. Major supporters of the 2019 Financial Resources FCU Foundation Charity Event were Jane Paftinos Law Offices, LLC; Quality Title & Abstract Agency; and OM Financial Group.
Other sponsors of the evening were First Commonwealth FCU; Peter Liska, LLC; Diebold Nixdorf; First Brunswick Properties Group; Gateway Services Group; K-9 Resort Daycare and Luxury Hotel; Kushner Real Estate; Merck Employees FCU; and Affinity FCU.